Department of Psychology

We Are Psychology. Come Join Us!
Happiness is not out there for us to find. The reason that it's not out there is that it's inside us.
- Sonja Lyubomirsky (University of California)
Stream of Consciousness
Telling our stories to inspire others.
Letter from the Chair

–Alan Christensen, PhD

Expanding the Science of Behavior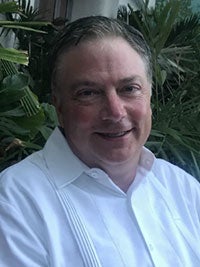 Our faculty of scientist-practitioners is addressing the major challenges of today's world. With the assistance of involved undergraduate and graduate students, their expertise is advancing knowledge related to behavioral, social, and health experiences. Together, our dedicated group of scholars, staff, graduate and undergraduate students, are fostering innovative research, teaching, and service to the community.
In addition to our Undergraduate Program (BA), we offer a doctoral degree (PhD) in Health Psychology with concentrations in Clinical Health Psychology, Occupational Health Psychology, and Pediatric School Psychology. We also offer a Master's degree in Psychology with concentrations in Clinical, Industrial/Organizational, and School Psychology and a Specialist in School Psychology (SSP) degree. Additionally, we offer a Graduate Certificate in Quantitative Methods for the Social and Behavioral Sciences.
We strive to support our students and faculty on the frontlines of learning and research, while stewarding our community and our campus. To do this, the Department of Psychology needs you!
Department Goals/Mission
Pursuant to the philosophy of East Carolina University, the Department of Psychology pledges itself to (1) foster educational excellence in curriculum, instruction, and scholarship at both the graduate and undergraduate levels; (2) promote psychological research and scientific inquiry through attendance at professional conferences, professional contacts, and publications; (3) provide opportunities for students to learn from a variety of experiences; (4) foster a culture that values diversity, encourages interaction, and negotiates the differences among us; (5) uphold the standards of professional ethics and academic integrity; (6) promote multidisciplinary collaboration; (7) support academic freedom and shared governance; and (8) foster professional and public service.